Unique Network brings a monumental year to its close with final details of our token sale, Quartz rewards distribution, year-end partnerships, and an AMA for the ages. Check it out.
Quartz Went LIVE + Rewards Distribution!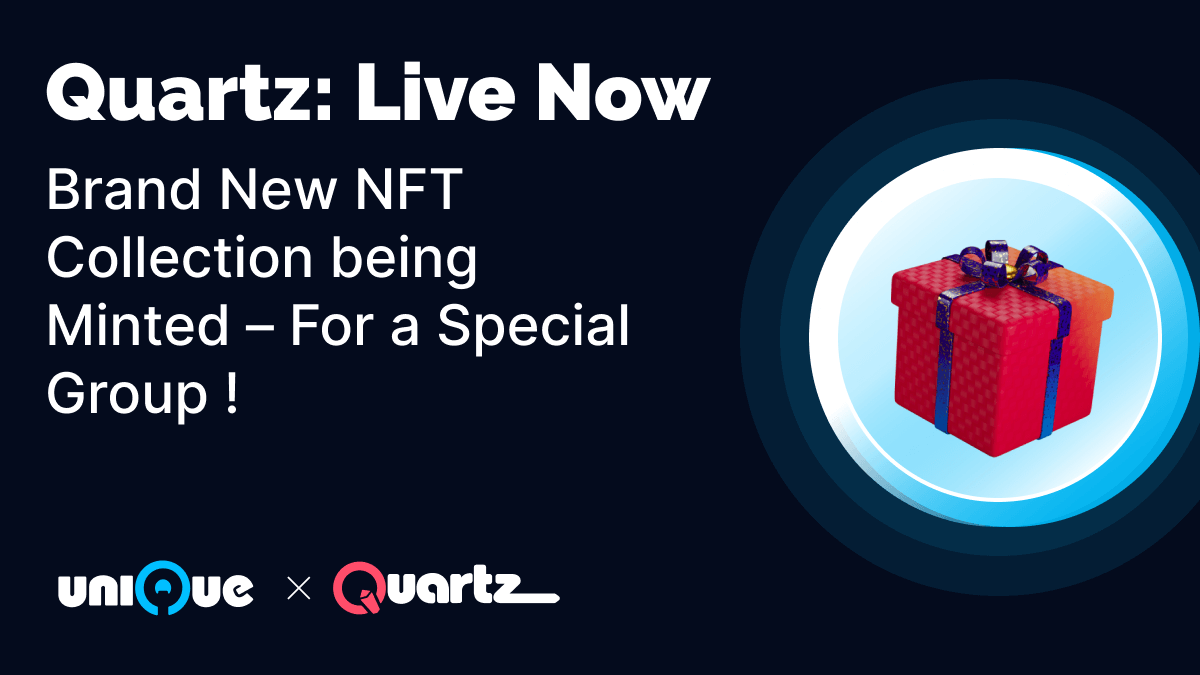 Following our November update, we're back on the blog to inform our community on what we've been up to during the last month. Following the long-awaited win of the Quartz parachain on Kusama Network, Quartz went live on Kusama Network. To celebrate, we shared news that the first official mint on Quartz would be a brand new NFT Special Collection for a very special group. Stay tuned for more info on that!
In December, we also shared a detailed look into the distribution of QTZ through a vested model ahead of the announcement on 16th December that Quartz crowdloan were officially distributed to wallets. Nearly 9,000 crowdloan supporters received Quartz tokens in batches!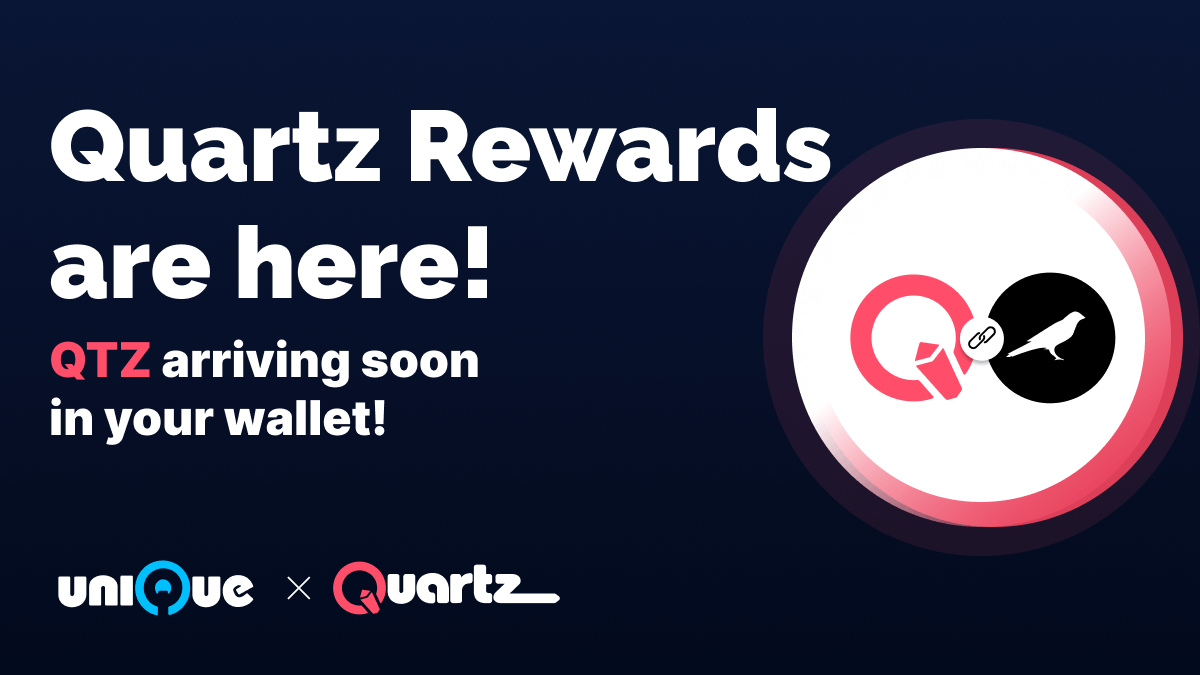 UNQ Token Sale… Final Details & Date!
On 16th December, we also shared final updates on the UNQ token sale! The community was alerted on the final deadline for whitelisting eligibility, as well as the big news of the official sale date—11th and 12th January! Find out everything you need to know about the token sale right here.
Substrapunks Raffle!

Following the exciting event in April when Substrapunk holders were airdropped RMRK's Kanaria eggs, a demonstration of Unique's Nested NFT Pallette capabilities, we helped give back to the collective communities through a raffle worth well over 100KSM. Substrapunk community members were kind enough to contribute SubPunks to the raffle, donating over 50 editions towards the event (including a very rare Blondie!). All in all, we helped draw over 50 winners fr om the raffle.
Unique's Head of Metaverse Growth Irina Karagyuar Wrote a CoinDesk Op-Ed on Real-Estate NFTs
In a spirited year-end op-ed for CoinDesk's Culture Week, our Head of Metaverse Growth, Irina Karagyaur, went deep on the possible future of NFTs in the physical and virtual real-estate space. Irina discussed some limitations of real-estate NFTs purely on Ethereum and how multi-chain NFTs on Polkadot and Kusama will fuel a "gold rush in the metaverse" where digital assets can be used in both virtual and physical worlds to generate new wealth and opportunity. Read the piece from Irina here and be sure to check out Irina recapping her op-ed live on CoinDesk TV.
Alex Mitrovich Shares His Take on Mass Adoption for Cointelegraph
Speaking on Team Unique in press, our CEO Alex Mitrovich was featured in Cointelegraph's end-of-year expert roundup on crypto's mainstream adoption. Check out Alex's take below and head here for the full piece:
From a true definition of 'mass adoption' — meaning critical mass — no, we have not scratched the surface of mass adoption of crypto. When a majority of global consumers are using cryptocurrency or owning NFTs and participating in DAOs without knowing that they are using blockchain-based technologies — that will be when mass adoption has been reached. I think the spark has been lit, but it's going to require deeper integration, accessible tools that are easy to use by normal people, and extreme flexibility in technical and economic design or perhaps a subversion of the current technological paradigm before we can say crypto has achieved mass adoption.
Alex Mitrovich and Charu Sethi End-of-Year Twitter Spaces AMA!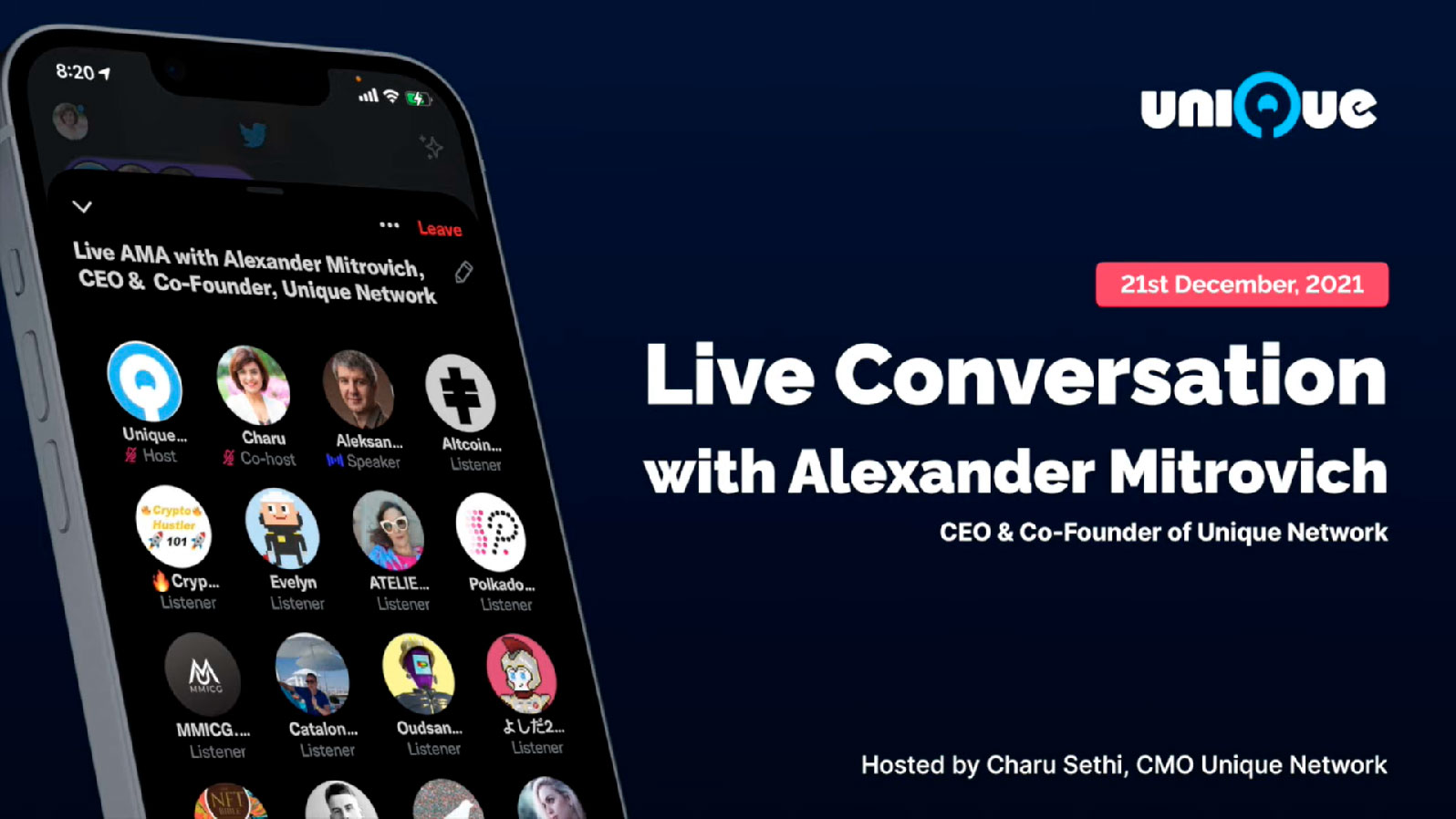 So much happened in the last few months that we wanted to hold an AMA to reflect on the last year and look forward to 2022 for the Unique Network community. Moderated by our CMO Charu Sethi, we answered questions from the community and Alex shared insight into our roadmap, partnerships, challenges, and opportunities leading into the next chapter of our platform. Check out the full AMA recording on YouTube and check out this Twitter recap thread to find out what was discussed. We look forward to plenty more AMAs in the coming months!
In the AMA, Alex also shared the announcement that Unique Network was featured in one the first official Substrate case studies. Give it a read to learn more about our technology and what problems we're solving in NFTs and the greater blockchain industry.
That's it for now! Big thanks to the entire community, partners, investors, and everyone else out there who has been a part of Unique Network's massive last year. We'll see you in 2022!
We wish you an amazing 2022 and look forward to achieving great things together!
As always, make sure to stay updated and connected with what's happening at Unique Network on our Twitter, Discord, and Telegram!