September has proven to be a whirlwind month for Unique Network, characterized by unwavering activity and notable achievements.
We reflect on a busy and productive month filled with exciting events. Our engagement with the community reached new heights, creating connections and driving innovation. We were incredibly excited about our involvement with Polkadot, which opened up new opportunities for decentralized innovation. This was just one aspect of an extraordinary chapter in our story.
Discover the milestones, partnerships, and developments that have defined our journey as we enter the last quarter of 2023.

Revealing winners of Polkadot Hackathon: APAC 2023 at Polkadot:Social Seoul
The @Polkadot Hackathon: APAC Edition 2023 finalists finally presented their pitches live during Polkadot Social:Seoul! ????

A massive congratulations to the following teams who highlighted the ever-growing Unique Network Builders community:

???? LoopNFT [#Web3 & Tooling] / 1st… pic.twitter.com/5tfHHXJtkg

— Unique Network (@Unique_NFTchain) September 8, 2023
Recently, Unique Network participated in the Polkadot Hackathon: APAC 2023, organized by AngelHack and Polkadot. This virtual event was held in Seoul, South Korea, and offered networking opportunities and workshops to participants. The goal was to develop innovative solutions in five tracks, with a total prize pool of over $220,000. The grand prize of $18,000 was awarded to the winning team in each track.
The community of Unique Network Builders showcased two standout projects: LoopNFT, which secured first place in the Web3 & Tooling track, and Nesee, which earned the runner-up position in the Interfaces & Experience track.
In celebration of our partnership with AngelHack and their fantastic event, we have released a limited collection of unique and redeemable NFTs as a tribute to our collaboration and the innovative atmosphere of the Polkadot Hackathon APAC: 2023.
Engaging in Polkadot Relayers Incubator 2023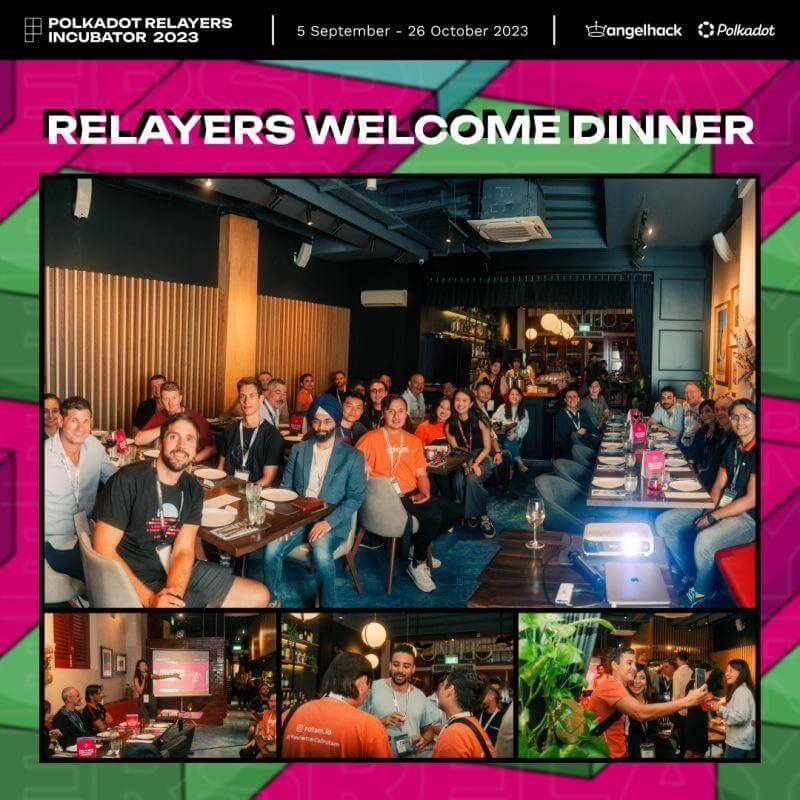 Our experience at the Polkadot Relayers Incubator 2023 was truly memorable. As a participating parachain team, we significantly shaped the "NFT & Gaming" track, one of the program's four main tracks. During the incubator, we were honored to mentor and witness the impressive growth of many talented teams. The program's highlight was announcing the winners of two exceptional projects, Homesy and Forever Has Fallen, at TOKEN20249.
Homesy, created by Craig Bromberg, is a platform that helps digital consumers discover their ideal homes. It utilizes Unique Network's advanced NFT capabilities, such as Nested and Bundled NFTs, to provide users with verified data ownership and an immersive storytelling experience. Meanwhile, Forever Has Fallen, led by Kimon Lycos, is an exciting game that combines storytelling, scavenger hunts, and community involvement.
Mentorship and one-on-one workshop sessions with CEO Alex Mitrovich are provided to each project during their stay at the incubator as part of our commitment to propel the winning teams to greater heights.
Unique Network booth at TOKEN2049 Singapore
Visit the Unique Network booth, part of the #Polkadot booth (P69), during the final hours of #Token2049! ⏳

☀️ We have awesome merch to giveaway, new #NFT collections to share and enjoy networking among Polkadot's burgeoning ecosystem! Don't be a stranger, let's connect!

⬇️⬇️ pic.twitter.com/fMa8Lyzyru

— Unique Network (@Unique_NFTchain) September 14, 2023
We traveled to Singapore in mid-September for various events, including meetups, workshops, hackathons, and networking sessions at TOKEN2049.
For our attendees, it was the perfect opportunity to:
Enter a Substrapunk raffle
Receive new Unique Network merchandise
Chat with the team and share cool ideas
At the Polkadot booth, Unique Network was one of the featured participants alongside esteemed companies such as Ajuna, Moonbeam, Bifrost, Zeitgeist, and Stellaswap.
And the show is LIVE!!

If you're at #Token2049, head over to the Unique Network booth as part of the #Polkadot Pavilion (P6). Josep from Loop #NFT is CREATING & MINTING MUSIC LIVE! Head over for a unique experience and catch a verse or two ????

Enjoy a taster below: https://t.co/fnByiYQUgl pic.twitter.com/pDoynnQSdh

— Unique Network (@Unique_NFTchain) September 13, 2023
Outlining and submitting an NFT XCM proposal
Join the conversation as CEO Alex Mitrovich reveals innovative plans for a groundbreaking NFT XCM proposal that has the potential to revolutionize the Polkadot ecosystem. Although the proposal is in its early stages, it aims to simplify the transfer of NFTs across Polkadot parachains, promising to transform the NFT market on Polkadot.
At Polkadot sub0 Europe 2023, Dani Shiposha, a Unique Network Core Developer, presents additional NFT use cases allowing cross-chain NFT interactions across multiple parachains.
Please take a moment to read the project introduction on Polkadot.
Unique in the Press
The winners of PolkaPals Quest II have been announced. They earned $UNQ and Mad Bunny World NFTs from Unique Network's quests. NB: PolkaPals is a network alliance of Polkadot teams.
On The Kusamarian's Space monkeys podcast, Unique Network CEO, Alex Mitrovich shared his take on the current state of Blockchain Gaming, its adoption and what to expect in the future. Watch below:
Discover more articles on our blog.
Our latest article, "How Data is Driving the Future of NFTs," explores data's pivotal role in the NFT ecosystem. Discover how Web3 technology transforms how data is utilized in non-fungible tokens. From provenance tracking to enhancing the overall NFT experience, this piece explores how data-driven innovations shape digital collectibles' future.
Learn more about the exciting synergy between data and NFTs here.
Build on Unique
Are you a builder or developer looking for the most advanced NFT infrastructure? From SDKs, RFTs, and Customizable NFTs, we can help you create powerful and dynamic NFT solutions. Whether you're looking to build new dApps or integrate existing ones, we have the tools and expertise to help you succeed.
Get in touch for more support.