Users can now quickly and easily stake and unstake UNQ and QTZ tokens through the Unique Staking Hub and support the development of the Unique Network blockchain.
The interface allows users to grow their capital while supporting the Unique Network ecosystem and sponsoring dApp transactions.
Visit the Unique Staking Hub to stake UNQ or QTZ tokens!
Staking for UNQ and QTZ tokens is Open!
After months of rigorous testing and development, it is possible to stake both UNQ and QTZ tokens on the Unique Staking Hub. You can support the Unique Network ecosystem by staking your tokens while earning up to 20% APY.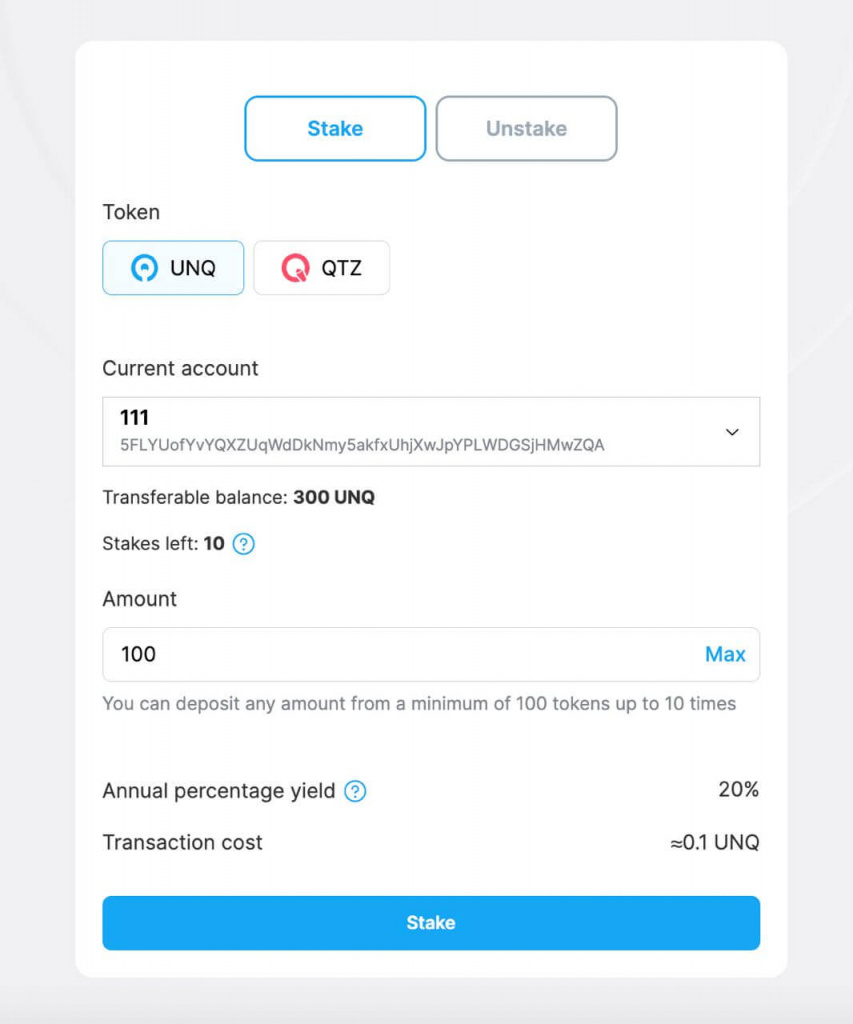 Unique Staking Benefits: Grow Capital & Support the Unique Network Ecosystem
By staking tokens with Unique Staking, users can earn rewards while contributing to the growth of the Unique Network blockchain. One of Unique Staking's primary advantages is earning a 20% APY. The APY is generated through inflation and funded by the Unique Network Treasury.
Users can help fund decentralized application transactions on the Unique Network. Unique Staking is an excellent option, providing both financial incentives and supporting the growth and development of the Unique Network blockchain. Thanks to our partial unstaking feature, users can withdraw their desired token amount.
Please note there is a mandatory one-week waiting period before you can transfer your tokens to your wallet if you decide to unstake them.
More Useful Information
Staking UNQ and QTZ tokens is accessible via Substrate wallets. We expect to incorporate MetaMask staking functionality in future releases.
Users can stake tokens up to ten times from one wallet. With partial unstaking users can unstake a portion of their staked funds, providing better liquidity access and more effective fund management.
Build on Unique
Builders and developers. We offer advanced NFT infrastructure to help design and prepare for future use cases. With our innovative technology, experiment securely without technical complexities. Leverage our infrastructure to unleash creativity and take your NFT applications to the next level.
Join us to build the future of NFTs together! Contact us for more information.