Halloween is approaching, and we want to see your spooky Unique NFTs! Enter our competition, mint a spooky NFT on Unique, and have a chance to win $100 in DOT!
We're excited to share our latest competition here at Unique Network - spooky NFT-themed for Halloween! And it's easy to participate! All you have to do is create your spooky NFT on Unique, list it on the Unique Marketplace (optional), tag us on social media and use the hashtags #IAmUnique and #UniqueHalloween.
Want to know more? Read on below so you don't miss a thing!
How to Participate in Easy Steps
Step 1:
First, you will need to design your spooky-themed NFT. As this is a Halloween campaign, don't forget to include something that resembles Halloween!
Tip: You can use an AI image generator to create your art! We recommend using the following tools:
Examples: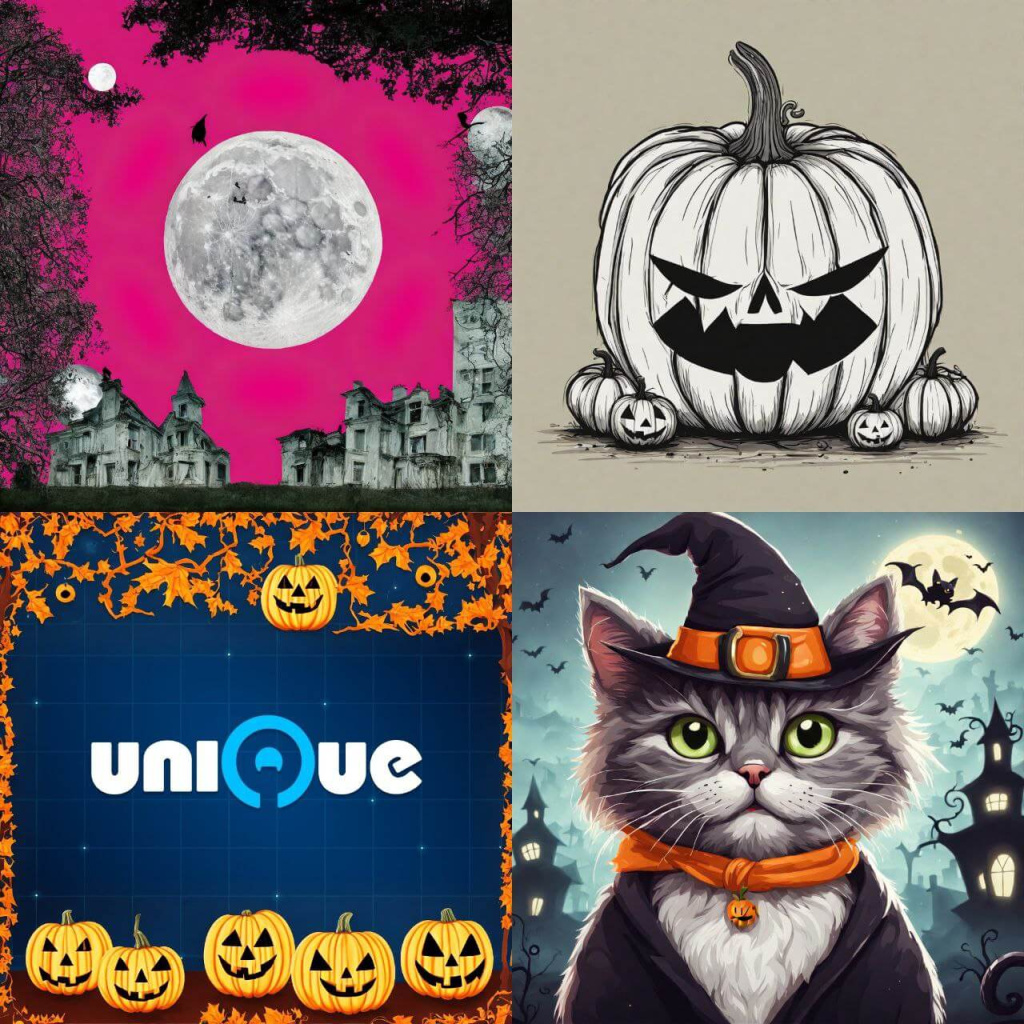 Not sure about the prompts to use? Rest assured, we've got you covered, here are some example prompts we've picked out, that you could use (but do try to use your own and combine whichever works best for you!):
Haunted Mansion: Picture a crumbling mansion bathed in moonlight, with ghostly figures waltzing behind the windows and a flurry of crows erupting from the roof.
Witch's Lair: Envision a shadowy forest clearing where a witch concocts a mysterious brew, black cats prowling and spirits swirling around her.
Graveyard Gathering: Imagine fog-draped tombstones with phantoms rising, and a spectral presence hovering over a crypt.
Pumpkin King: Behold a gargantuan pumpkin with a wicked smirk, reigning on a skeletal throne, with mini pumpkins paying homage.
Midnight Ritual: Visualize cloaked figures in a mystic circle, chanting as ghostly hands reach out from the blazing fire, surrounded by cryptic symbols.
Step 2:
Once you're done, it's time to create your Unique NFT! Your NFT is like your very own digital asset on the blockchain. Once created, it's always there and visible to you (and you can also list this NFT on the Unique Marketplace).
Not sure how to create your NFT? We've got a video to get you started:
Perhaps need a step-by-step written article? We've also got this to help you: https://unique.network/blog/unique-network-marketplace-relaunch-a-step-by-step-tutorial-on-getting-started
Step 2.5:
You might have seen, you can also list your Unique NFT on the Unique Marketplace…
We encourage you to check out the Marketplace, list your NFT and check out other artworks during the campaign. You might end up seeing something that you like…
Step 3:
Don't forget to share your spooky-themed NFT with us in our community channels and on social media! This is a required step so we can see your artwork and decide on the winners!
Lastly, don't forget to include the hashtag #IAmUnique and #UniqueHalloween on X (Twitter) - let everyone know your awesome art and share it with the rest of the community!
Important Competition Information
Please read the important information below, so you know what to expect throughout the campaign.
The competition will start on the 27th of October, 2023.
The competition will end on the 3rd of November, 2023.
There will be a total of 5 winners ONLY! Each receiving $20 worth of $DOT.
You need to create an NFT using Unique's tools, and you must share your artwork with us.
You can enter as many times as you want - submit all your favourite spooky art!
Members from the Unique team will pick their favourites and combine them to select 5 winners.
Note: You will need Unique Tokens (UNQ) in order to create and mint your NFTs. Not sure how to get Unique Tokens? You can check out Huobi here.
Have any questions or still not sure what to do? Send us a message over on Telegram or on our Discord and we'll be happy to help you out!
Dive into the Go-To NFT Platform with Unique on Polkadot!
Here at Unique, we strive every day to be the go-to NFT platform for everyone; developers, artists, designers, musicians and… you!
Are you interested in diving into the world of digital assets and exploring what Unique has to offer? We encourage you to check out our ecosystem, where you can create, mint, customise, list and share your work with the rest of the world - the opportunities are endless!
Why not take a look for yourself?
Want to get in touch with us, or need some additional help? Reach out to us on Telegram and someone from our team will be glad to help you out!
Don't use Telegram? Don't worry, we have other ways you can get in touch with us:
For Developer Queries:
For Any Other Queries:
We wish you the BEST of luck, and we look forward to seeing your spooky submissions!