We take pleasure in announcing the launch of our first-of-its-kind AI Art competition—as part of the Unique NFT Marketplace relaunch! This exciting event combines the power of AI and the potential of sustainable Web3 technologies, reflecting the transformative nature of both fields.
With its ability to enhance security, scalability, and personalization, AI will play a crucial role in shaping the competition and ensuring a seamless experience for participants and art enthusiasts. Through the decentralized platform offered by Web3, the competition will enable AI developers to showcase their groundbreaking creations and collaborate on pushing the boundaries of artistic expression.
This initiative not only celebrates the convergence of AI and Web3 but also embraces the future of technology and its immense potential for innovation in the art world.
We're inviting seasoned and aspiring artists to showcase their innovative AI-generated artwork and earn 10,000 UNQ.
This competition provides an exciting opportunity for those passionate about AI, digital artistry, or an inquisitive mind about blending art and technology to experience the fascinating world of AI-generated art.
Join now by visiting the NFT Marketplace and submitting your creations.
How to participate in the AI ART Minting competition
1. Design your AI Art
Let your imagination run wild and create stunning works of art with AI art. Many AI art tools and software are available online, so you can find one that fits your style and budget and create a unique and original piece of art for submission. Here's a useful resource to help you get started.
2. Mint on Unique Network
Once you've created your AI art, you can mint it on the Unique Network, i.e., creating a unique digital token to represent your art. This token can then be traded on the Unique Network marketplace or used to access exclusive features and benefits.
For more information on how to mint NFTs on Unique watch the video below or read our step-by-step tutorial:
OPTIONAL STEP — Have fun with NFT Bundles
For adventurous creators, we offer a bundling option that allows you to integrate two or more NFTs, creating more advanced token relationships. This can greatly enhance your designs and make them stand out in the Marketplace.
3. List on the Unique Marketplace
Once you've minted your AI art on the Unique Network, you can list it on the Unique Network marketplace.
4. Tweet using #IAMUnique & #AIARTonUnique
Once you've minted and listed your AI art on the Unique Network marketplace, don't forget to tweet about it! Use the hashtags #IAMUnique and #AIARTonUnique to inform the world about your work.
Important information for all participants
Competition dates:
Start: July 5
End: July 19
Judges will select the top 5 pieces based on their creativity, originality, and visual appeal.
The Unique Network team will buy the top 5 art pieces for 10,000 UNQ each.
In addition to the rewards, the winner's art will be featured on the Unique Network website and social media channels.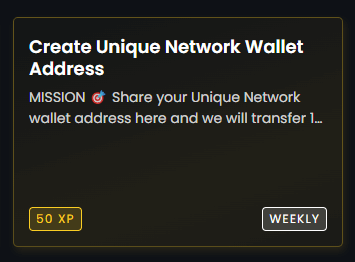 Helpful guidelines
When creating a collection, include your prompt, idea and thought process in the description. to provide context and clarity to potential participants. We want to understand your motivations behind the artwork.
Another important part note is the competition is open to anyone who wishes to participate, despite their artistic background or skill level.
Acknowledging that motivation for creating art can stem from various sources is important. Art motivation is vast and subjective, whether personal experiences, emotions, societal issues, or other subjects.
This article is articulated in this YouTube video tutorial. Please watch for more information on how to participate in the AI Art Minting competition.
For any help, please contact us via Telegram or Discord.
Build with Unique Network
Are you an artist, developer, or producer diving into the exciting world of Non-Fungible Tokens (NFTs)? Look no further! Unique Network offers a comprehensive and sustainable ecosystem empowering you to maximize the value and impact of your digital creations. Build nested, customized, or dynamic NFTs easily to add utility to your digital assets or collections
With an array of tools and features suited to creating, minting, selling, earning, or generating unique NFT relationships, Unique Network is your one-stop destination for all things NFT-related.
Get in touch for more support.