Hello, Uniques!
Following our jam-packed mid-month recap, we're back on the blog to close out July with some more exciting announcements and updates. See below to catch up!
Punks for the People Updates
Last time we checked in with Monique, a.k.a Cryptopunk #3042, she was on her way to meeting a mysterious stranger from the Substrapunk tribe. Last week, voting officially ended to vote on the Subtrapunk that Unique will purchase from the community for 100 KSM. Next week, we will unveil the winning Substrapunk who will join Monique in her quest for blockchain freedom and access. We'll also be unveiling a special community-focused competition to help further tell this story, so stay tuned :)
Catch up on Punks for the People:
We bought CryptoPunk #3042 to migrate it to Quartz—and give away fractions for free to our community through the power of refungibility (RFT).

Learn about "Monique" (aka Cryptopunk #3042) and why we are bringing a Punk to Quartz and Polkadot.

Learn about Unique's RFT technology and the need for cross-chain NFTs.
Rewatch a Twitter Spaces on NFT Utility
On Thursday, 4th August, we joined a Twitter Spaces with our friends from Tapx on one of the most relevant topics in the blockchain and NFT space: utility! Relisted to the conversation here — it was an essential and educational conversation alongside other industry leaders from Vinci Protocol and Vault Hill metaverse platform.
We Joined Polkadot's Latest Community Call Alongside Fellow Parachains!
Communication and transparency are the key to growth! On 27th July, we joined an energetic Polkadot community call alongside some of our fellow parachains like Astar and Darwinia Network, as well as some other key members of the Polkadot community and ecosystem. Big thanks to everyone who joined, participated, and shared what their building in the best blockchain around. Relisten to the call here.
Revisit Unique Talks at Polkadot Decoded!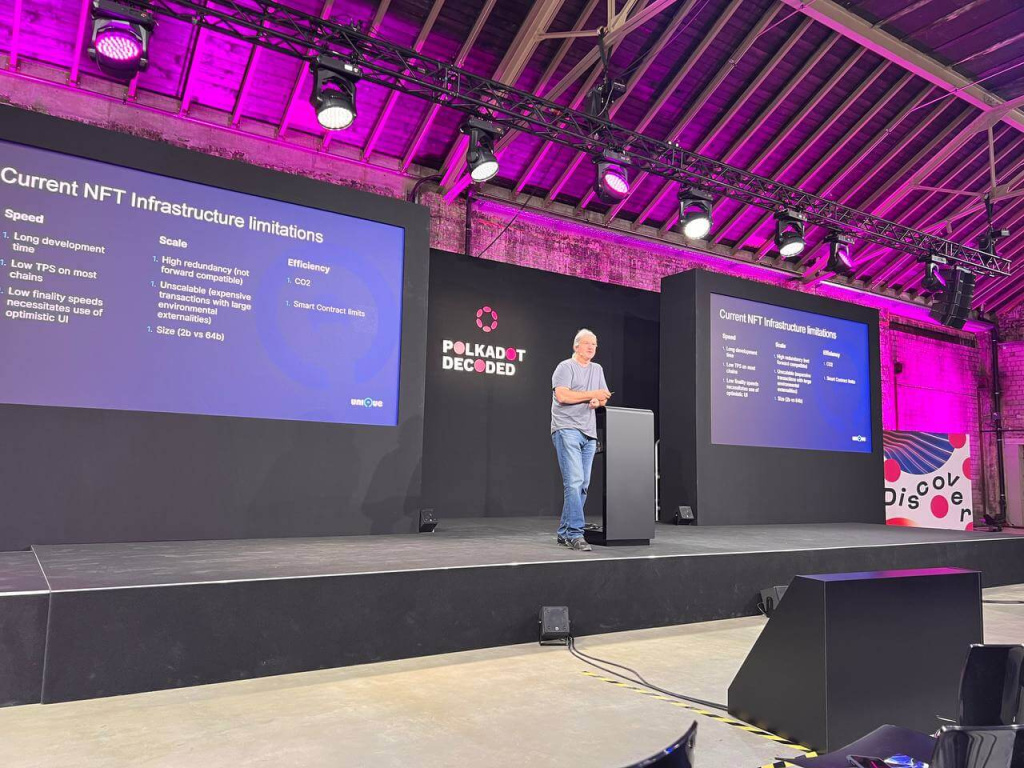 We are still buzzing from this year's massive Polkadot Decoded, where Unique team members shared all of their NFT knowledge and web3 expertise! ICYMI, see below to revisit two talks from the conference, with our CEO Alexander Mitrovich and CTO Greg Zaitsev. Thanks everyone who joined live and online.
Leveraging the Power & Flexibility of Substrate to build Advanced NFT Infrastructure
Sponsoring Palette - The Gateway To Mass Adoption
Our Head of Ecosystem Growth Dropped Polkadot Knowledge in Paris
We always love to see our team member Irina Karagyaur representing the Unique team and Polkadot community at key crypto events around the world. This July, Irina helped wrap a pivotal month for our platform with some words on how to work (and build!) together to bring the blockchain to the best possible future. Check out Irina's stellar panel on YouTube.
You can also hear more from Irina from a recent Web3 webinar she joined with the team from Metamind 3.0 and speakers from Ultra.io, JOURNEE, and Arts Dao. Watch back here.
That's it for now! Stay connected across our channels and we'll see you soon.
— Unique Network