Hello, Uniques!
Following August's update, we're back on the blog to kick off the fall season in fine style! Read on below to catch up on what's happening.
We Dropped a Punks for the People Video!
Punks for the People, our epic campaign to bring back more access and equity to NFTs through the power of fractionalization and our refungible technology, is still going strong! At the moment, we have over 57,000 registrants who will be receiving their free pieces of the punks—Cryptopunk 3024 and Subrapunk 6123.
Are you ready to receive your fractions? Stay tuned… and keep in mind that It's still not too late to join our quest and register your address. To learn more about the campaign (or just share in our excitement) check out this new video below!
Register for a fraction of a Cryptopunk and Substrapunk NFT
$UNQ Token Listing… and Staking!
The UNQ token was officially listed on the centralized exchange Huobi on Wednesday, 28th September. To start trading UNQ, head to Huobi.
Huobi is also offering UNQ staking, where you can deposit your $UNQ on Huobi Earn and enjoy up to 50% APY. Stake your token here and find out more about the event on Huobi.
To help celebrate the occasion, our CEO Alex Mitrovich joined Huobi for an AMA session, which included a special quiz and UNQ giveaway. Listen back to the AMA on Twitter.
Learn more about UNQ token:
Diamond in the Rough — UNQ Sale
The power of dynamic NFTs is coming to the Unique Chain
Another month, another round of new partnerships. In September, we dropped news of our partnership with OG Protocol, a blockchain oracles technology for integrating dynamic data into NFTs. Utilizing Unique's advanced features, OG Protocol's tools and solutions will help enable our creator community to start building dynamic NFTs with utility that crosses the boundaries of the digital and physical.
NFT Ticketing Solution Powered by Unique with Lemonade Social
We also shared news of an ongoing partnership with Lemonade Social, a multichain platform that empowers creators to build web3 communities with IRL utilities and rewards beyond what's currently available in web2 environments. Unique will power Lemonade Social's NFT ticketing solution - a first for the industry - and will assist and provide value to by letting them take advantage of our advanced features, delivering an elevated event experience for partygoers and the atrendess of IRL and virtual events in the metaverse.
Read about our work with OG Protocol and Lemonade Social
Token2049
September marked a massive moment for blockchain in the Asia region with Token2049 touching down in Singapore. We were proud to represent Unique at Polkadot's official ecosystem booth where we shared Unique swag and conversation with some of the leading builders, devs, and community members in the space. We also had a wonderful time meeting teams from the Polkadot ecosystem and the official lounge party and some satellite events around the city. Thanks to everyone who brought their energy and expertise to the event!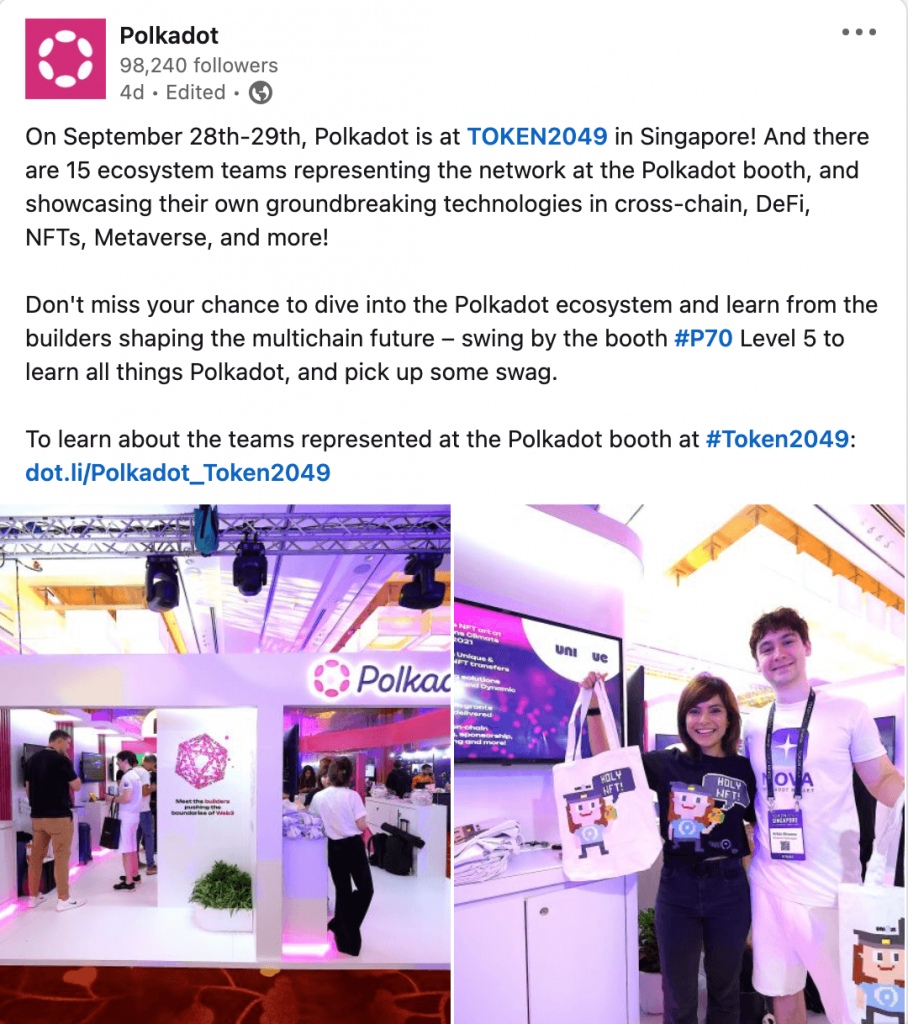 Unique Won Auction #54 for the Kusama Network Parachain Slot
Another big win! We officially won auction slot #54 for a continued parachain slot of Polkadot's experimental chain, Kusama, meaning Unique will be extending the lease on Quartz for another 328 days, until 26th August, 2023. Find out more details here.
Watch Three Demo Videos from the Winners of Unique's Nested NFT Hackathon
Unique nested NFT technology presents the opportunity for a variety of use cases and the potential for mass adoption via seamless user experience in NFTs and asset management. To help flex the potential of our nested technology, we held a hackathon for developer teams to build demos that bring these tools to life. Across three new videos on our YouTube page, you can check out demos from the winning teams: NES3D, Unique Space, and Social Weaver.
Check out a full blog on the winning teams here.
Thanks for reading! See you next month.
— Unique Network